02 Jul

Space: Axiom Space
Commercial Space Station Made by Axiom Space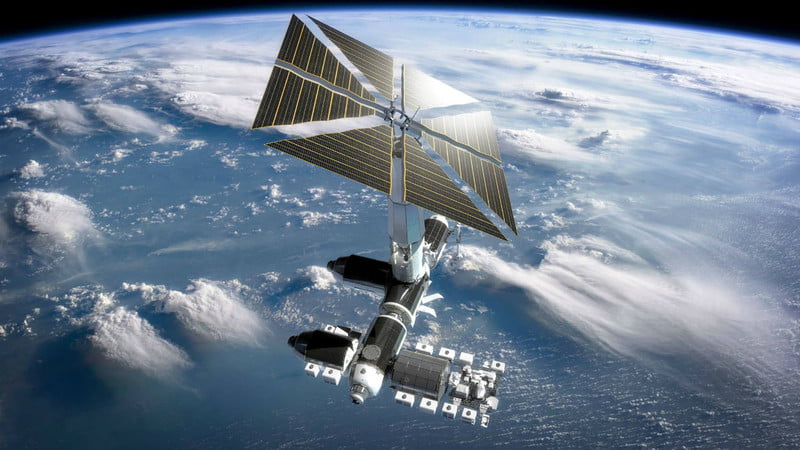 Axiom Space plans to develop and build the first commercial space station in the world. Credit: Axiom Space
Axiom Space is a Houston-based company established in January 2016 that plans to build the world's first commercial space station. Axiom Space plans to launch its first space station in 2020, which will be initially docked to the International Space Station (ISS). The ISS is currently funded up to 2024 and when it is decommissioned, Axiom's orbital module will detach and fly freely on its own. Axiom's station can house eight passengers. One prominent initial market is space tourists that would each pay $55 million for the adventure. Aside from an eight-day stay in space, this cost covers 15 weeks of training, much of it at the Johnson Space Center, a 10-minute drive from Axiom's headquarters. Thus far, three entities have reserved for on-the-ground training, which starts at $1 million.
The commercial station's interiors are being designed in partnership with famed French architect Philippe Starck, so they'll be quite a bit different from the utilitarian spaces of the ISS. Mr. Starck lined the walls with a padded, quilted, cream-colored, suede-like fabric and hundreds of tiny LED lights that glow in varying hues depending on the time of day and where the space station is floating in relation to the earth.
What does Axiom Space provide?
Axiom provides six customer segments.  In addition to hosting private astronauts (the $55 million advertised), the company will offer programs for professional astronauts, researchers, manufacturers, advertisers, and space exploration entities such as governments and companies. There are countries who wish to send people to space but don't have their own capabilities to do so. For instance, a German organization seeking to get that country's first female astronaut in orbit is in talks with Axiom. There are also researchers who may wish to test products ranging from medicine to communications. Eventually, this research can lead to a profitable product that can only be manufactured in space. Axiom also welcomes anyone who wishes to do in-space manufacturing on its space station.
The requirements to go up aside from the monetary one is lax; anyone over age 21 with relatively good health can sign up. Axiom guests will be required to wear a NASA-grade spacesuit for the rocket ride to and from the station. Features include a fiberglass torso and a drink tube for consuming small sips of water. Years after Pierre Cardin, Paco Rabanne and Andre Courrèges envisioned space-age fashion, Axiom is in talks with a high-end European fashion house.
The Axiom station will still have handholds, they will be plated in gold or wrapped in buttery leather, like the steering wheel of a Mercedes. Axiom's private cabins will have screens for watching movies, and there will be a 24-inch glass-walled cupola to gather with travelers and take in a panoramic view of the earth. There will also be a hygiene compartment where you can have a sponge bath.
Why should I invest?
Part of what makes a company viable is the core people's experience and the fact that they have already received funding from reputable sources.
Axiom has quite an impressive lineup on its team. The founder is Mike Suffredini, a Houston native and 27-year NASA veteran who was the program manager of the ISS at NASA Johnson Space Center (JSC) for ten of those years (2005 – 2015). He retired from NASA in 2015 and became the president of the commercial space division of the engineering firm Stinger Ghaffarian Technologies. In 2016, he launched Axiom Space.
In addition to Suffredini, Axiom's ranks include several NASA veterans, including former astronauts Brent Jett as the VP of Operations, and Michael Lopez-Alegria as the head of Business Development. Others include Stephen Altemus, also the president and CEO of Intuitive Machines, who is in charge of Engineering Design and Integration. Amir Blachman, previously the managing director of the Space Angels Network, is the VP of Strategic Development.
Currently, Axiom has received more than $10 million so far through two rounds of funding – one in December 2016 and one in June 2018.
"We've met their engineers, we've seen their plans, we hired domain experts that grilled them and did a deeper dive," said Lisa Rich, a founder of Hemisphere Ventures and an early Axiom investor. "Everything came up with 'This is a big go sign, we've got to get in on this.'
"At the Johnson Space Center, when Mike walks down the hall, they're all practically saluting him," Ms. Rich said. "He's a legend in his own right."
Hemisphere Ventures has also funded aerospace companies Vector Space Systems and Nanoracks. Other investors include Starbridge Venture Capital and Balfour Venture Capital. Starbridge Venture Capital is a VC firm specifically focused on space and has previously invested in small satellite company Planet. Balfour Venture Capital is a South African / British VC firm investing in high technology.
If you wish to contact Axiom Space to invest or reserve a flight seat, send an email through Axiom Space's website https://axiomspace.com/about-axiom-space or mail a letter to the following address:
17155 Feathercraft Lane
Houston, Texas 77598
References
https://www.starbridgevc.com/portfolio
https://www.crunchbase.com/organization/axiom-space#section-investors
https://robbreport.com/travel/hotels/axiom-space-offers-vacation-aboard-international-space-station-2800621
https://www.cnet.com/news/vacation-on-the-international-space-station-for-the-person-who-has-everything
http://www.scmp.com/magazines/style/travel-food/article/2151608/us55-million-10-day-stay-philippe-starck-space-station
https://www.geekwire.com/2018/axiom-space-offers-space-station-vacations-starting-2020-cool-55-million
https://www.space.com/40893-axiom-private-space-station-trip-55-million.html