Introduction to ARES
The global market for energy storage (already 2% of generation capacity in just the US) is growing rapidly with the growth of renewable energy.  Solar, wind, and other renewable energy generation are fundamentally intermittent and their aggregate peak output rarely matches that of peak system loads, delivering on annual an average of less than 30% of their rated capacity into the electrical grid. Without energy storage technology, a significant amount of energy produced is simply lost.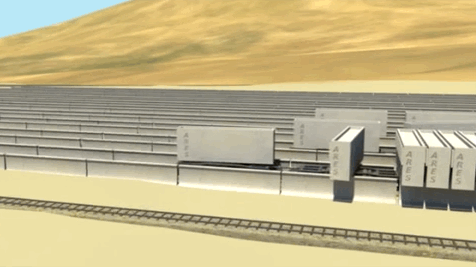 Advanced Rail Energy Storage (ARES), based in Santa Barbara, California uses modified railway cars rolling downhill on a specially built track to release energy and off-peak electricity to pull the cars to the top of a hill. The ARES system requires specific topography but its founder and primary inventor, William Peitzke, says ARES uses 100-year-old technology which delivers more power for the same height differential with a round-trip efficiency—the ratio of energy out to energy in—of more than 85%, compared with 70-75% for pumped-storage hydropower (PSH). Furthermore, ARES has a much wider geographic scope than PSH since it does not require water and has far less negative environmental impact (no need for drilling or flooding). Peitzke co-founded the company with San Diego engineer Matt Brown and hired James Kelly, a retired Southern California Edison executive, as CEO. ARES has raised $25 million as of July 2015. ARES CEO James Kelly said, "The basic concept is how do I move mass with the force of gravity? It finally dawned on us to use 100-year-old technology, and that's electric railroads, and to add modern digital control systems to automate electric railroads for storage." Francesca Cava, Chief Operating Officer of ARES, said, "Gravity energy storage has been around for a while but no one has thought of combining railway technology with it."