Introduction
Note: This post was written by one of two founders of Nautical Torque, Galon Maloney, with minor edits by Shen Ge. Shen Ge recently contacted Galon to acquire an overview of the company. Two and a half years ago, on November 1, 2012, 
Nautical Torque Technology
, a designer and manufacturer of innovative mechanical equipment and processes to produce continuous renewable electricity, announced that the U.S. Patent and Trademark Office (USPTO) issued the company its first U.S. patent. This patent is the first step towards bringing a new type of renewable to the market and help utility companies meet their renewable portfolio standards. [caption id="attachment_348" align="alignleft" width="462"]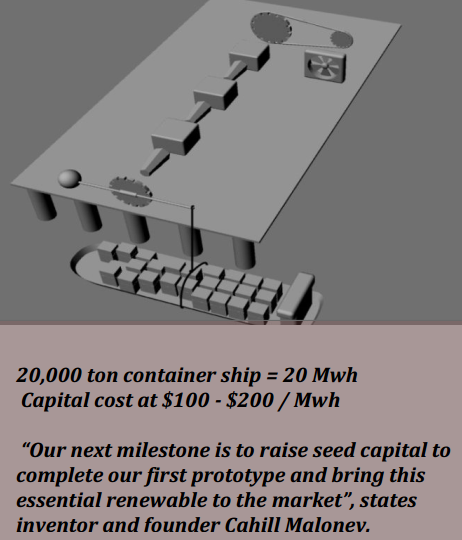 "Our next milestone is to raise seed capital to
complete our first prototype and bring this
essential renewable to the market", states
inventor and founder Cahill Maloney.[/caption]
Patent US 8,143,733 B2, relates to the capturing of the kinetic energy from the rise and fall of large particles of floating mass such as ships, barges, and tankers. Rather than use the horizontal force of water to turn a turbine or generator, Nautical Torque utilizes the lifting and lowering of water to capture the kinetic energy from the slow moving mass that rises and falls with the incoming and outgoing tide. The design utilizes equipment and facilities that can be securely located and protected on a dock rather than underwater or offshore, offering lower development and transmission costs than any other wave and tidal technologies on the market. Nautical Torque uses mass as the input source for simplicity and scaleability achievable within current mechanical technology.